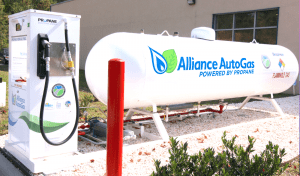 A partnership between a social services program and a company that offers alternative fuel is expanding into Greene County.
By early 2018, NET Trans vehicles traveling their routes within the county should be fueled by propane — or autogas, as it's known as within the industry.
Alliance Autogas is currently installing a propane tank and fuel pump at 1201 Tusculum Blvd., near Crossfit and Kykers Extreme Automotive, on property leased through Bewley Properties.
"We are a company that provides the complete solution to businesses, service companies (and) law enforcement agencies that are considering an alternative fuel to power their fleet of vehicles," consultant Happy Fox said.
The company has been working with NET Trans in Johnson City and Elizabethton for some time, and Greeneville represents the first expansion of their partnership, he said.
NET Trans, a division of First Tennessee Human Resource Agency, is a service that provides low fare rural transportation. Alliance Autogas is currently in the process of converting NET Trans' vans that operate in Greene County to be powered by propane.
Fox said he hopes to see that conversion and the installation of the fueling station complete by sometime in January 2018. Read the full article here.