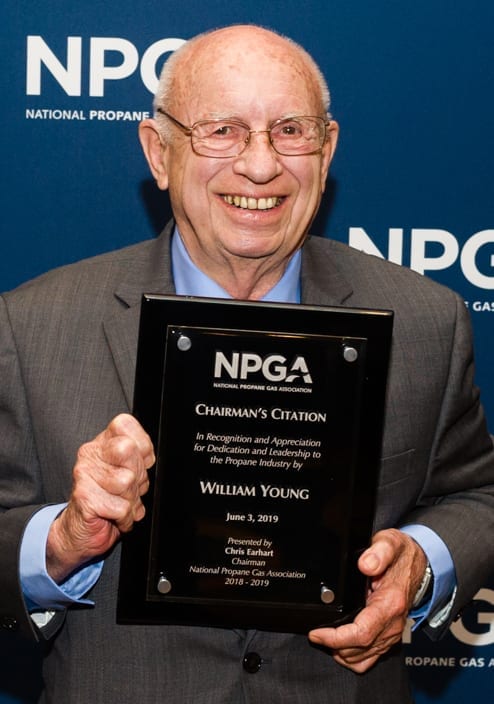 William (Bill) Young vice president of engineering for Superior Energy Systems received the coveted Chairman's Citation from NPGA Chairman Chris Earhart at the NPGA Board meeting on June 3, 2019 in Washington, DC. The citation was given "In Recognition and Appreciation for Dedication and Leadership to The Propane Industry."
Bill has served in the gas industry for more than half a century and has been involved in the build of more than 2,000 propane systems, utility peak shave plants and propane terminals throughout his 55-year industry career. Bill has served as a key player in the sale, design, engineering, construction, manufacture and service of propane gas equipment in both domestic and foreign markets and he has dedicated his time to designing unique products and conquering challenging projects.
An active National Propane Gas Association member for more than 45 years, Young has participated on the Technology, Standards and Safety Committee for more than three decades and served on numerous NFPA committees for more than 25 years. He also has logged more than 45 years of service on American National Standards Institute committees. Well known as a propane industry codes watchdog, Young has testified in front of government entities to help lift propane restrictions, create and improve standards.
In 2017, Bill received the coveted Propane Hall of Fame award by LP Gas magazine, given to a select few who help establish, advance and grow the propane industry. Young also received the Personal Distinction Award from the Canadian Gas Association in 2003, along with a 40-year Participation Award from ANSI and a Commitment & Service Award from NFPA.
Young entered the propane industry in 1961 as a staff engineer at Industrial Gas, a small independent propane company in Pittsburgh. There, he worked on his first water-bath vaporizer and propane-air blender system. In 1977, he became vice president of sales and engineering for Alternate Energy Systems in Georgia, and became company president in 1983. He developed several unusual systems, such as a system for a compressor manufacturer that mixed propane and natural gas at 650 psi. He also designed an automatic system to control the ratio of air to propane for natural gas utility peak shaving plants.
In 2002, Young helped found Superior Energy Systems, one of the leading engineering, procurement and construction contractors for natural gas liquids. After helping found Superior Energy Systems in 2002, Young helped the company sharpen its focus toward propane autogas, or propane used as a vehicle fuel. He worked with his engineering group and helped the company manufacture a wide range of propane autogas dispensing systems, including its flagship unit, the web-based PRO-Vend 2000. The PRO-Vend 2000 tracks key data like driver and vehicle identification, vehicle mileage, gallons pumped, and a virtually unlimited number of vehicles, drivers and customers. The unit is viewed as one of the most innovative in the propane industry today.