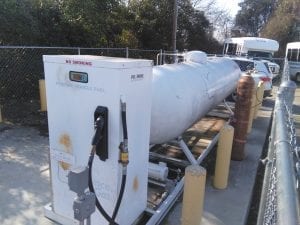 Dispensers now located in all 50 U.S. states and four Canadian provinces
CLEVELAND (April 4, 2018) — Superior Energy Systems has installed its 1,000th propane autogas dispenser and now has units located in all 50 U.S. states and four Canadian provinces.
For more than 40 years, Superior Energy Systems has provided the best in turnkey liquefied petroleum gas and natural gas liquid systems and infrastructure solutions. Its venture into propane autogas began 12 years ago, when longtime customer Blossman Gas inquired about the availability of a propane autogas refueling dispenser. It purchased the very first dispenser (shown here) that Superior Energy Systems manufactured in 2007, which is still in use at an assisted living facility in Anderson, S.C. As a celebration of its success, Superior Energy Systems upgraded the dispenser at Blossman's Autogas Research and Technology Center in Swannanoa, N.C. with its 1,000th-manufactured dispenser.
"Surpassing our 1,000th dispenser sale represents a huge milestone for Superior Energy Systems," said Derek Rimko, company vice president of operations. "Our team has worked diligently for more than 12 years to perfect our line of propane autogas dispensers and we now lead the propane industry with highly certified, technologically advanced equipment that meets every fleet nee
In late 2017, Superior Energy Systems became the second company worldwide, and first U.S.-based company, to earn Measurement Canada approval for its propane autogas dispensers. The certification verifies that the company's dispensers are legal for trade and custody transfer in commercial and retail applications throughout Canada.
In addition, its retail dispenser line, including the PRO-Vend 1000; the web-based, customizable PRO-Vend 2000; and the PRO-Vend dual-hose units are National Type Evaluation Program (NTEP) certified by the National Conference of Weights and Measures, as well as certified by the Canadian Standards Association (CSA) to Underwriters Laboratories (UL) 495 requirements. The units also comply with all applicable National Fire Protection Association (NFPA) standards.
"Superior Energy Systems has always been our go-to for propane infrastructure, which is why we initially turned to them for an autogas refueling solution," said Mark Denton, vice president of business development for Blossman Gas. "The autogas market has evolved greatly in 12 years and Superior continues to provide us with the very best refueling experience for our fleet customers across the nation, as well as exceptional customer service."
Superior Energy Systems plans to showcase several of its autogas dispensers in its booth, #119, April 6-8, 2018 at the National Propane Gas Association (NPGA) Southeastern Convention and International Expo in Atlanta. It will also feature its PRO-Vend 500 Fuel Management Control, a web-based, stand-alone fuel management system which can be connected to a fleet's existing fuel dispensers.
In addition, it will demonstrate ScaleTec, an affordable solution to automate existing beam scales and provide overfill protection. The company also plans to highlight its growing midstream business by featuring a butane blending skid with mass flow technology provided by Endress+Hauser. For additional product information, please visit www.superiornrg.com.
About Superior Energy Systems, Ltd.: Since its inception in 1975, Superior Energy Systems has brought together engineering, manufacturing, construction and safety expertise to focus on operational excellence. We provide the best in turnkey LPG and NGL systems and infrastructure solutions as well as safety and compliance training. We have manufactured more bulk plants and trans-shipment terminals throughout the United States than any other company and have over 1,000 autogas dispensers located across North America. In addition, we design, engineer, construct and service vaporizers and mixers, rail towers, metering and odorant skids and stand by fuel systems. Visit us at our Cleveland headquarters or learn more at SuperiorNRG.com.
# # #
For more information:
Gregg Voss | TSN Communications
(224) 542-9530 | gvoss@TSNcommunications.com