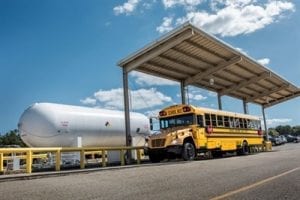 More school buses are running on propane autogas now than ever before.
Since 2012, sales of propane buses have grown by almost 500%, with propane buses operating in 22 of the largest 25 designated market areas and four of the 10 largest school districts in the country.
At the start of the 2017-18 school year, nearly 13,000 propane buses were in use by districts in 47 states, taking almost 800,000 students to school daily.
Some transportation directors are choosing propane over other fuels, for a variety of factors. Many already find propane school buses to be less expensive to operate, cleaner for the environment, and safe for students. However, there are even more benefits offered by propane that transportation directors may be surprised to learn.
1. Propane is a proven alternative.
Propane fuel systems in school buses are often viewed as an emerging or unproven technology, but that simply isn't the case. Propane has actually been powering school buses since the 1970s.
It's been a long-accepted fuel solution for school buses across Texas, the backyard of the U.S. energy industry. Texas districts were some of the earliest adopters, including Northside Independent School District in San Antonio, and Alvin Independent School District, which started using propane in the early 1980s.
Many districts in the Lone Star State, with easy access to any fuel type at their fingertips, continue to choose propane. Texas now accounts for more than 20% of the total number of propane school buses nationwide.
2. Propane buses offer the lowest total cost of ownership.
Propane school buses offer the lowest total cost of ownership of any fuel. Some districts recoup their initial investment in the buses in as little as 18 to 24 months because of the reduced fuel prices and maintenance costs associated with propane buses.
Wholesale propane is historically less expensive than conventional fuels, and costs typically fall between the prices of oil and natural gas, from which propane is produced. Using propane also allows school districts to insulate themselves from market fluctuations by locking in an annual fuel price with their local propane retailer.
Because propane burns clean, maintenance costs are greatly reduced. Propane buses require less oil by volume, and add-on filters required by diesel buses are unnecessary, too. Read the full article here.