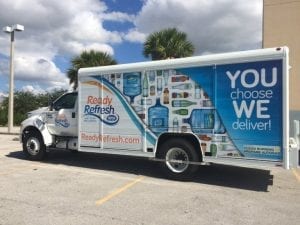 STAMFORD, CONN. (PRWEB) DECEMBER 11, 2017 – Environmental stewardship is driving Nestlé Waters North America's deployment of more than 400 additional medium-duty ReadyRefresh℠ by Nestlé® beverage delivery trucks fueled by propane autogas. The company now operates nearly 600 of these alternatively fueled trucks, which make up about 30 percent of its total North American fleet.
"Becoming a better steward of our environment is a priority for Nestlé Waters," said Bill Ardis, national fleet manager for its ReadyRefresh business unit. "We've been running propane autogas vehicles since 2014, beginning with five class 5 vehicles. Based on the proven emissions reduction compared with our older diesel units, and lower fuel and total cost of ownership, we knew this was the right application for us within the alternative fuel space. With propane being domestically produced, it's proven to have a more stable cost per gallon, while the fueling and maintenance infrastructures are much more cost effective than other alternative fuel options."
ReadyRefresh's additional Ford F-650/750 delivery trucks are each equipped with a ROUSH CleanTech propane autogas fuel system that provides 55 usable gallons of fuel, "without compromising our standard delivery methods," said Ardis.
The Ford 6.8L V10 3V engine with a ROUSH CleanTech fuel system is certified to 0.05 grams per brake horsepower-hour for nitrogen oxide (NOx). This engine is 75 percent cleaner than the current Environmental Protection Agency standard and 99 percent cleaner than diesel vehicles built before 2007. Read the full press release here.