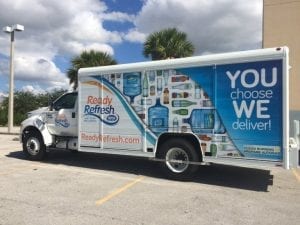 Despite the advancements, there still are maintenance, cost, and operational concerns associated with natural gas.  That may be a reason other alternative fuels are also gaining traction in the freight transportation sector. For example, Roush CleanTech has seen two straight years of record sales of Class 4-7 propane vehicles and in early 2018 had the largest backlog in the company's history, Mouw explained. Fleets can save "thousands of dollars per year in fuel and maintenance, even at today's [diesel] levels," he said.
Roush CleanTech has more than 18,000 propane autogas-powered vehicles on the road, with over 600 million miles traveled.
"Customers are beginning to establish propane in their fleets as a fuel of choice rather than as an alternative fuel," said Michael Taylor, director of autogas business development for the Propane Education & Research Council.
Last year, Nestlé Waters North America added 155 Ford F-650 delivery trucks that run on propane autogas, bringing its total to 600, or 30% of its total North American fleet. The ReadyRefresh by Nestlé Ford F-650/750 beverage delivery trucks are each equipped with a Roush CleanTech propane autogas fuel system that provides 55 usable gallons of fuel.
"With propane being domestically produced, it's proven to have a more stable cost per gallon, while the fueling and maintenance infrastructures are much more cost-effective than other alternative fuel options," said Bill Ardis, national fleet manager for ReadyRefresh.
Bimbo Bakeries USA is another example of a large fleet that has deployed Ford trucks equipped with Roush's propane system into urban areas.
Propane should continue to grow in popularity with alternative fuels and electricity, especially in urban areas, as more local governments crack down on diesel and gasoline emissions.   Read the full article here.