Propane, referred to as autogas when used in internal combustion engines, is the leading alternative fuel in the nation and the third-most commonly used fuel across the globe, behind gasoline and diesel. Thanks in part to lower total cost of ownership, more and more fleet managers are choosing propane autogas to fuel their fleet. Even when conventional fuel prices are low, a vehicle's additional costs — like fuel, fluids, filters, and repairs — can drain your fleet's budget. Over your vehicle's lifetime, propane autogas is proven to help you save money and clean up the air with notable reductions in emissions.  In addition, you'll pick from a wide range of certified OEM and aftermarket options and all vehicles deliver comparable, if not improved, horsepower, torque, and towing capacity when compared to gasoline or diesel fueled models.
Whether you are using propane autogas for your fleet vehicles or for retail sales, our dispensers and dispensing systems provide you with the infrastructure solutions you need for easy fueling. From a single fueling dispenser to a complete station installation, we can customize a package specifically for you, helping you choose the right refueling option based on fleet size, routes, budget, and facility space. And because propane autogas infrastructure is scalable, it can easily grow to meet your fleet's needs. We can also help coordinate the conversion or purchase of your vehicles, ensuring a seamless transition to autogas.
Learn more about our autogas capabilities by watching these videos. View our full autogas catalog by clicking here.
We engineer and manufacture a wide range of certified turnkey propane autogas dispensers that are safe, secure and simple to use. Our full autogas catalog can be viewed here. We've sold more than 1,100 dispensers to customers across the U.S. and Canada. Our dispensers may be placed on a public or private fuel island with any other type of fuel dispenser, including gasoline, diesel and other alternative fuels. Our dispensing systems operate much like a gasoline pump, and have added safety features such as pull-away protection and heavy-duty steel construction. Plus, all dispensers are powder coated, providing an attractive exterior.
Our 1000/1500 and 2000/2500 PRO-Vend® units hold the following certifications:
National Type Evaluation Program (NTEP) certified by the National Conference of Weights and Measures
Measurement Canada approved to Weights and Measures Act, article 193
Approved to UL Standard 495
Approved to Canadian Standard CAN1-12.4
Our affordable base price will fit your budget and our variety of options will fit your custom specifications.
PRO-Vend® 1000
The PRO-Vend 1000® is our best-selling dispenser. The unit is the foundation platform for all PRO-Vend® propane autogas dispensers and comes with everything you need to get started. It can also connect to any external fuel management system available today.
PRO-Vend® 500, Fuel Management Control
The PRO-Vend® 500 Fuel Management Control is a separate fuel management pedestal, equipped to pair with your existing fueling dispensers. It features card and key fob capabilities designed to track all driver, fuel and vehicle information and is able to grow with your fleet. The system is shipped complete with all up to date software, requiring only connections to power, hose authorization wire and pulse input. All communication is provided through a cloud based system using the included cell modem.
PRO-Vend® 2000
The PRO-Vend® 2000 is our most advanced dispenser. The state-of-the-art unit is a fully integrated, customizable web-based propane autogas fuel dispenser that operates from a built-in, Windows-based PC. The unit tracks key data like driver and vehicle identification, vehicle mileage, and gallons pumped for a virtually unlimited number of vehicles, drivers and customers. You can create customizable reports with the PRO-Vend® 2000 without the need to purchase and install separate technology. The self-contained touch screen system features a built-in fueling video monitor, ideal for driver training and friendly fueling reminders. Click here to learn more about our in-house, cloud-based software system.
PRO-Vend® 1500/2500 Dual Hose
Fuel two vehicles at the same time with the PRO-Vend® Dual Hose dispenser. A dual meter and two registers allow for easy refueling on either side of an island, saving both time and space. The PRO-Vend® Dual Hose can be configured as a stand-alone PRO-Vend® 1000 dispenser with an external fuel management system, or as a PRO-Vend® 2000 unit that includes fuel management system technology.
PRO-Vend® 3000
The easy-to-use PRO-Vend® 3000 is ideal for small fleets that don't require fuel tracking or monitoring. The unit includes a mechanical temperature compensated meter, or can be configured with a non- temperature-compensated meter, if needed.
Additional options on our propane autogas dispenser platforms include:
Credit card reader
Transaction receipt printer
1,000-gallon (and larger) tank and skid addition to base tank
High pressure pumping systems
Hose retractor
Third party fuel management system connections (available for the PRO-Vend® 1000 only)
Donaldson Clean LPG Filter (recommended with all autogas refueling set-ups)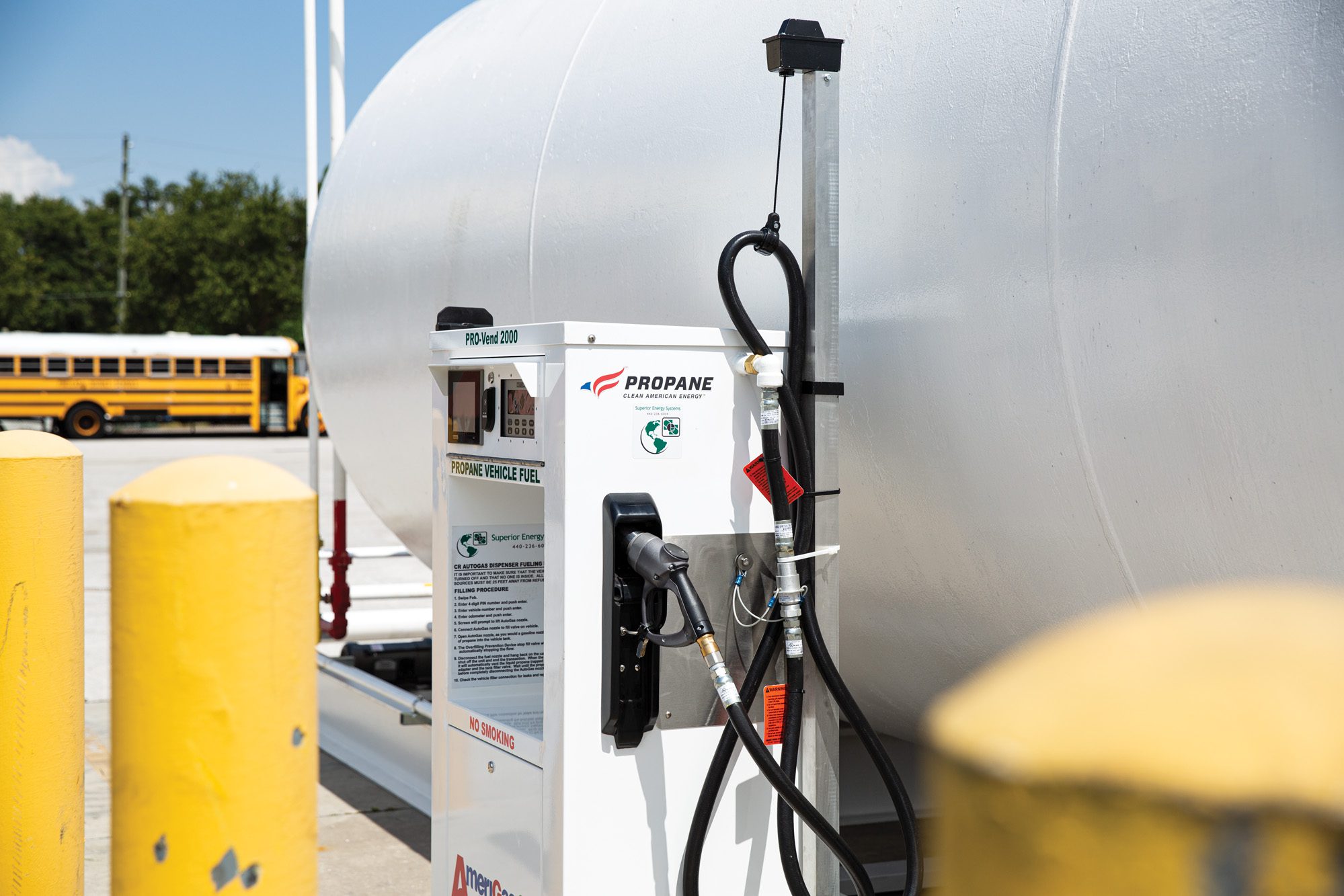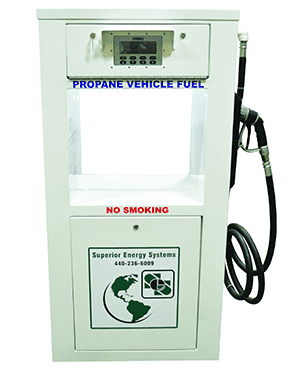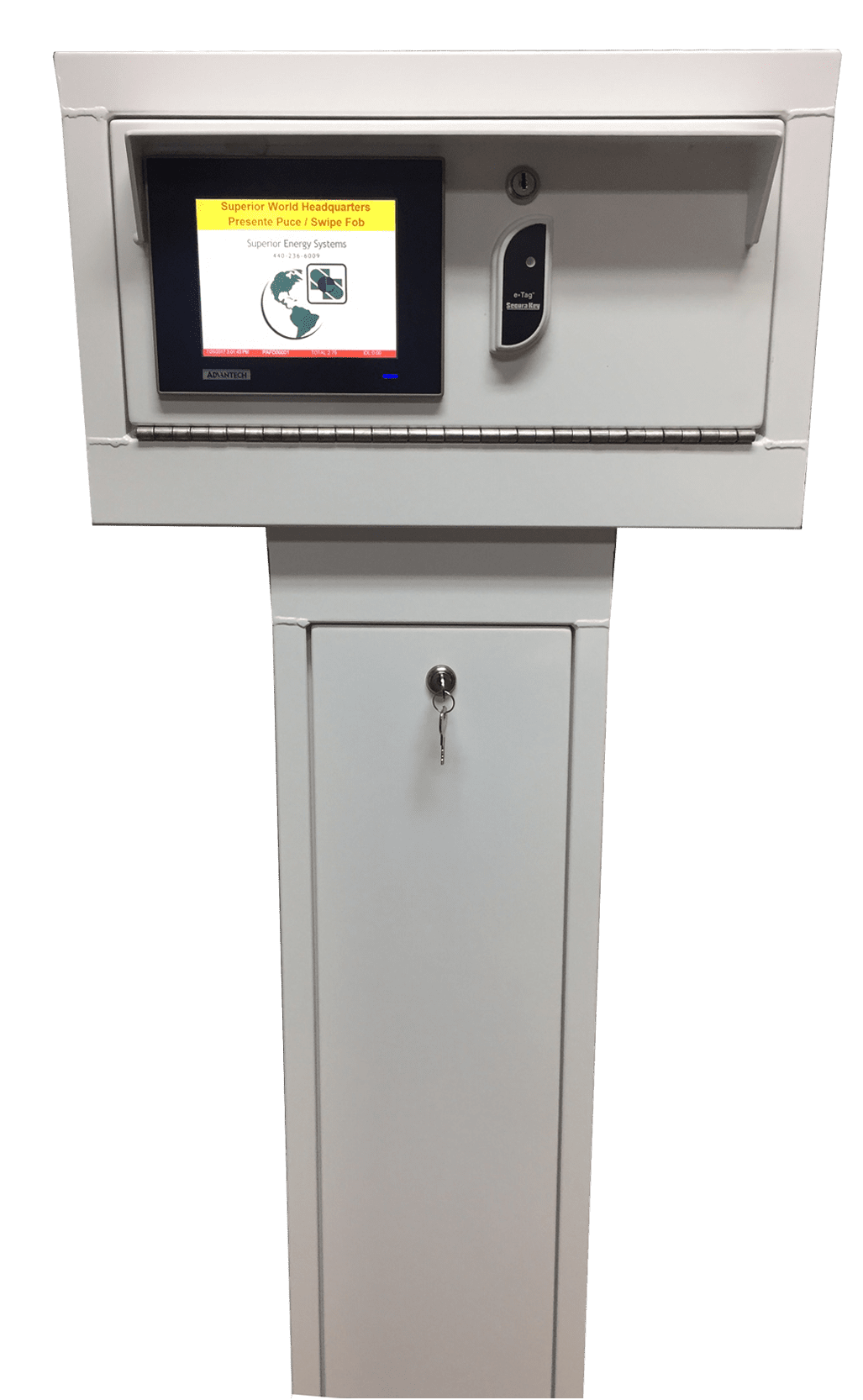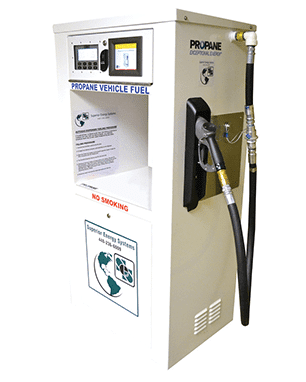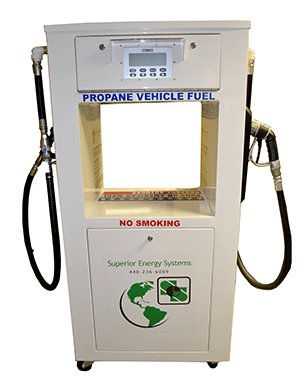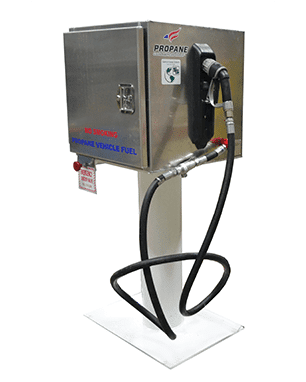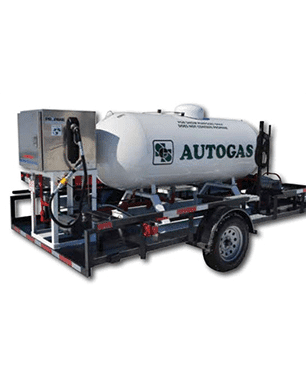 Virtual Autogas System Tour
Click here to take a virtual tour of one of our complete autogas dispensing systems. Begin by clicking the blue play button, then click each white circle to zoom in and view associated options. To go back to the home screen, click the white arrow in the bottom left corner.
PRO-Vend® 3000-P
The PRO-Vend® 3000-P is a portable propane autogas dispensing station designed for easy towing and temporary set up anywhere you need fueling. It's an ideal short-term fueling solution for events, expos and more. The completely self-contained system includes an on-board propane-fueled generator to fuel up to six gallons per minute, a low- or no-emission fuel pump nozzle and a 500- or 1,000-gallon storage container. The system offers on-board vehicle protection and meets all NFPA codes and standards. Leasing options are available.
Installing Complete Refueling Stations
In addition to dispensers, we custom design and manufacture complete propane autogas refuling systems which include one or multiple dispensers, skid mounted tanks of various sizes and all of the necessary components needed to begin fueling. Watch this video to see a step-by-step infrastructure installation. Find out more about our refueling stations.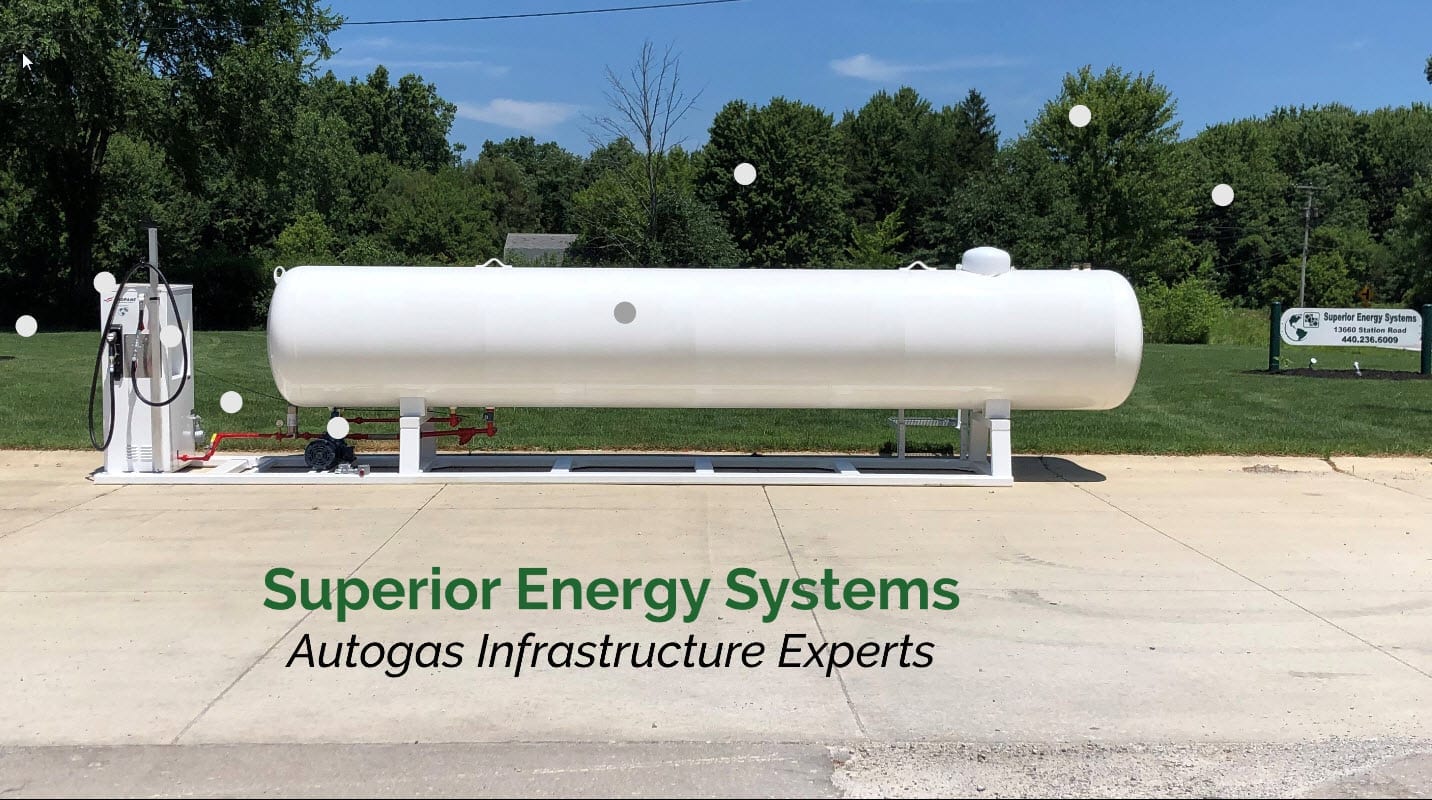 Propane Autogas Resources and Case Studies